See also 2018 Shortlist.
International Shortlist | Canadian Shortlist | Anthology | Photo Gallery
Click any book title to purchase that book online.
Click a poet's name or picture for biographies, judges' citations and poetry excerpts.
Announcing the 2017 Griffin Poetry Prize Shortlist
International Shortlist
Book: World of Made and Unmade
Poet: Jane Mead
Publisher: Alice James Books
Book: In Praise of Defeat
Translator: Donald Nicholson-Smith
Poet: Abdellatif Laâbi
Publisher: Archipelago Books

International Winner


Book: Falling Awake
Poet: Alice Oswald
Publisher: Jonathan Cape/W.W. Norton & Company
Book: Say Something Back
Poet: Denise Riley
Publisher: Picador
Back to top
Canadian Shortlist

Canadian Winner


Book: Injun
Poet: Jordan Abel
Publisher: Talonbooks
Book: Violet Energy Ingots
Poet: Hoa Nguyen
Publisher: Wave Books
Book: Silvija
Poet: Sandra Ridley
Publisher: BookThug
Back to top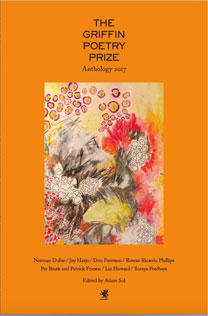 The Griffin Poetry Prize 2017 Anthology
Edited by Sue Goyette
House of Anansi Press
Royalties from The Griffin Poetry Prize Anthology will be donated to UNESCO's World Poetry Day, created to support linguistic diversity through poetic expression, and to offer endangered languages the opportunities to be heard in their communities.
Griffin Poetry Prize 2017 Photo Gallery
Click the center of the large image for a more detailed view and description.
Please contact webmaster@griffinpoetryprize.com if we have missed anyone's names in picture captions. Thank you!
Photo credits: Tom Sandler Photography
Photo credits:
Alice Oswald, by Kate Mount
Sandra Ridley, by John W. Macdonald
Denise Riley, by Kevin Lake
See also 2016 Shortlist.